Buy the guide
Ø Payment
• Paypal & Credit card
Payment perfectly secure and very easy to use.
After clicking on the "buy" button, you will be directed to the Paypal portal site where the transaction will be made.
You have a Paypal account
settlement will be through it.


You don't have a Paypal account
settlement will be made by credit card, through the usual form and with no obligation to create a Paypal account.

• Check (only in France)
Send the chek

(20€ + 5€ shipping).
Order : Bernadette Andral
at :
Nadine Andral - 80 rue des Amidonniers - 31000 Toulouse
Don't forget to give us your delivery adresse!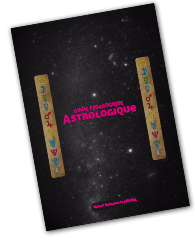 Ø General Terms and Conditions
Price
Astrological Teaching Guide sold 20€.
Delivery
For delivery in metropolitan France Shipping is calculated at 5€.
For delivery in Internationnal Shipping is calculated at 8€.
During the transaction on Paypal portal, you will be prompted to provide us with your shipping address.
Transaction
When paying by credit card or Paypal, the order processing is immediate.
For payment by check, the order processing begins after cashing the check.